Co-packing Molson Coors beer packs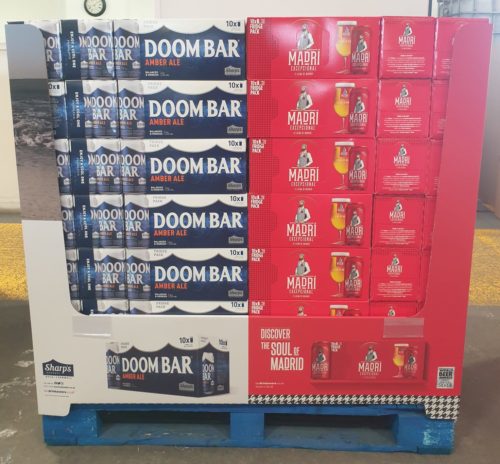 Published: October 20, 2023
It is only through precise planning that the design, co-packing, and transportation of pre-filled displays to retailers can be achieved, with product ready to retail and often aligned to additional brand marketing activities. Timings are critical.
The production of the Molson Coors temporary display (as with all co-packing projects) starts with a Gold Seal unit that is approved by the quality control team and used as a benchmark for the full co-pack. This is to ensure consistently high quality and uniformity throughout the entire project.
This Molson Coors display serves as an excellent example of a typical large-scale Easypack Displays co-packing project for a producer of beers, wines, and spirits. The Easypack co-packing team are responsible for erecting, packing, and preparing the full pallet cardboard display for distribution within the retailer's supply chain and ultimately to stores.
Easypack Displays has been providing their valuable co-packing service to customers for more than two decades. It's offered as a value-added service to customers in addition to expertise in design, structural engineering, and production of a wide range of temporary cardboard display units.
Just like any other Easypack Display project, the Molson Coors unit began with the design team. The full pallet display unit had to be structurally stable and sound, safe to be installed in a retail environment, with its graphic design complementing the beer packaging and adhering to both the retailer and brand creative guidelines. It's during this initial stage that the team work on optimising the product fill, while considering the overall aesthetic appeal to the customer in store. Once designed on CAD, the design team will manufacture a test display which is then filled with product before being transit tested to ensure product will arrive in-store undamaged.
For Molson Coors, this project needed an equally balanced 50:50 split between Doom Bar and Madri Beer packs. Visual and written instructions were provided to ensure the co-packing team could efficiently follow the load-up plan as agreed with the retailer.
When a project requires co-packing, the co-packing and logistics team begins work on their specific part while the project is still in the design and production phase. Their objective is to plan and coordinate the delivery of the product to Easypack's dedicated packaging facility for finishing and packing before preparation for onward delivery directly into the retailer's supply chain. This often involves managing multiple companies and logistics providers according to a pre-agreed delivery schedule and deadlines. It is crucial to align the finishing of the display units and the product delivery to ensure the project remains on schedule for store delivery.
Once each display unit is completed, it is wrapped and labelled in accordance with the retailer's specific fulfilment and delivery requirements. This final step ensures that the product is always accepted into the retailer's distribution network.