Production
In house manufacturing facilities for full operational control
The Fencor Packaging Group have, since our foundation, committed to continuously investing in our people, machinery, and training to ensure consistent delivery of the highest quality products and services to our customers.
Ongoing investment in cutting-edge machinery keeps us at the forefront of innovation and delivering the latest products and practices. As a priority skilled personnel are trained to operate the machinery and equipment to consistently achieve exceptional results.
Over the past decade, we have invested £10 million in enhancing our manufacturing capabilities, expanding our factory warehouse space, and extending our co-packing function, resulting in plants purposely designed to deliver to the highest standards.
Bespoke Corrugated Boxes
With state-of-the-art "quick set" touch screen case making machines, Manor Packaging produce glued corrugated boxes at a rate of 15,000 or more per hour. These advanced machines convert corrugated board into printed, slotted, glued, and bundled corrugated boxes in a matter of seconds. Your bundled boxes are then automatically palletised and ready for distribution to any location you require.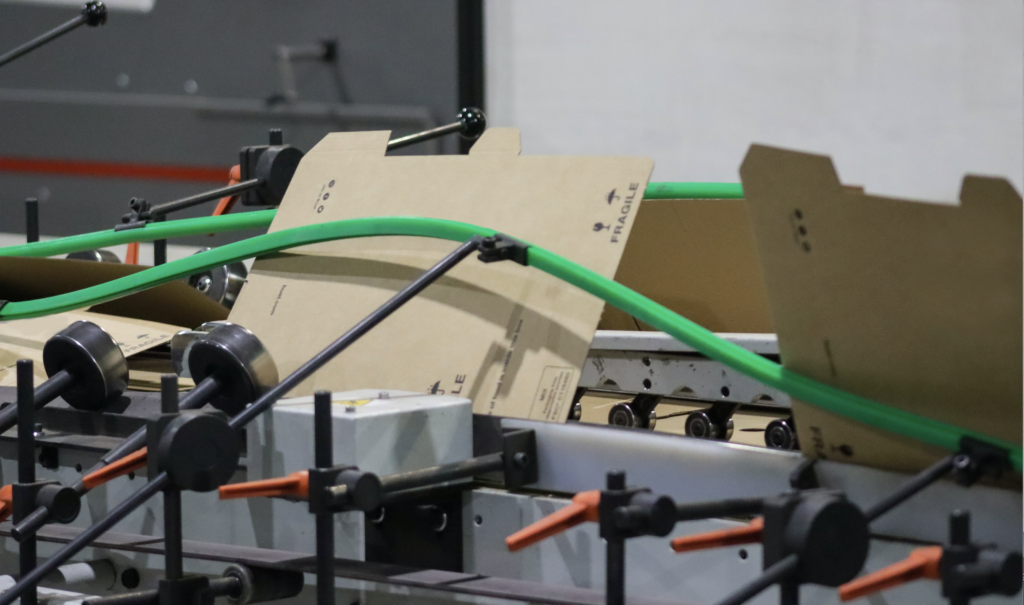 Recent investments in three BOBST machines, known as the Rolls Royce of our industry, have further enhanced our machine capabilities. These BOBST machines include a 4-color case maker with a rotary die cutter, vision cut flatbed die cutter, and expert fold A2 multipoint gluer.
However, we didn't stop at machinery, to maximise effective, accurate, production output, we also completely overhauled our ink supply and processes, installing a brand new, state-of-the-art ink kitchen. An Innovex 14 pump ink dispenser was installed linked to a computer controlled Xrite iColour checker, which utilises Xrite ink formulation software for precise, exact colour making and checking.
Temporary Display Stands
Handling the complex specifications of bespoke display stands requires systems and processes that can not just cope but excel. That's where our Easypack AG CAD design and sample making facility truly shines. We also opted to invest in digital production technology, which is more suitable and cost-effective for larger format displays when compared to conventional plate production.
To ensure production efficiency and accuracy is leveraged at every opportunity, we invested in several items of specialised equipment, including two Hewlett Packard Scitex large format digital printers, one of the largest hand platen die-cutters in the country, and large format Elitron "Kombo" digital cutters.
When you take advantage of our added value co-packing services, our skilled teams of operators meticulously assemble your display units, according to a Gold Standard Model, and customise them in line with your specific requirements.
Furthermore, our temporary corrugated cardboard display facility is fully equipped and approved for confidential production. We completely understand, not just the importance of maintaining the highest standards and adhering to industry regulations, but the need for protection of confidential project information.