A sustainable corrugated horticultural E-commerce box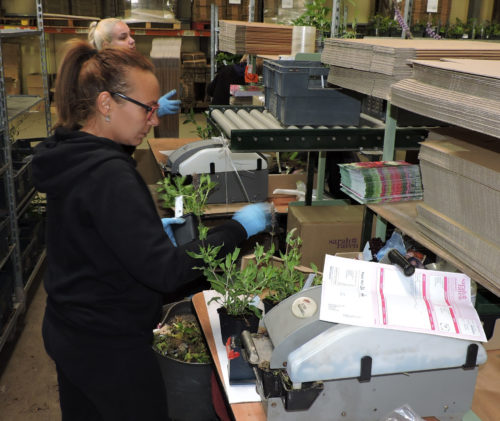 Published: October 24, 2023
It's gratifying that we're constantly engaging in discussions with companies that are actively searching for opportunities to remove plastic packaging from their product cycle and achieve a sustainable and recyclable solution.
Recently, we were challenged by a horticultural e-commerce business who had for years been delivering their plug plants using vacuum formed plastic trays. They have really wanted to use a cardboard solution for a long time but due to its absorbent qualities, it wasn't considered a suitable alternative. However, after discussing their conundrum, both they and we were determined to find a viable replacement solution for their business to go forward with.
Damp plant plugs, sent through the post, need to remain damp.
Beginning with research we found a specialised coating which had never been utilised for this type of purpose in the past. The moment we tested it, we were excited by the initial results, and following extensive experimentation, discovered that, consistently it worked perfectly for the product. By replacing the plastic fittings with a specifically coated cardboard material, our client has full confidence in sending their plants out damp through the post, to arrive in excellent condition.
The team were inspired by our success with the horticultural industry, so decided to investigate further possible applications for this innovative principle. After more testing and great success, we can now successfully apply the same coating technique to the personal care and cosmetics industry, where many businesses have been searching for ways to reduce the amount of plastics used in the sectors packaging. By correctly applying and utilising this unique coating, we have created recyclable alternatives for personal care and cosmetic packaging materials. This is a major break though in contributing to the reduction of plastic waste and the growing public demand for sustainable practices.
The journey we began several years ago is continuing, with a genuine documented commitment to sustainability in packaging. So, you may have a challenge, or you may be looking for an answer. We may be able to help you find it. Please contact us, don't wait to find out how we can help.