Improving Sustainability Credentials of Display Units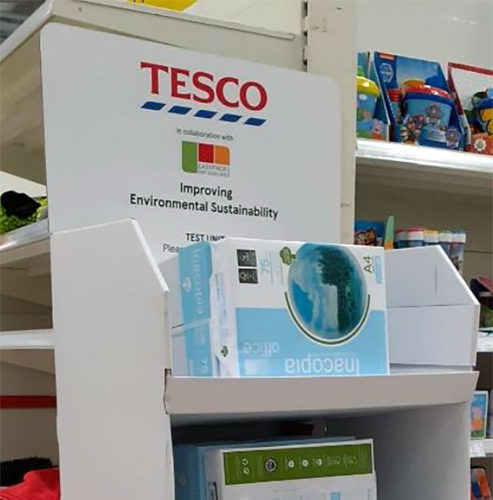 Published: September 28, 2023
Innovation to Eliminate Plastics in Key Retailer Displays
Back in 2019, Easypack Displays, our innovative Temporary Cardboard Displays operation, approached our client, the UK's leading grocery retailer, with a ground-breaking idea which, if adopted, could prove to be pivotal from a sustainability perspective.
The need to address the issue of single-use plastic MOP trays had been recognised within our team some time earlier. They had for decades been commonly used on the base of temporary cardboard display units, and there were millions disposed of after only one use. These plastic MOP trays were developed and initially used to protect the cardboard stands when the floor of the store was cleaned or mopped by hand, as was common practice. However, with the advances in equipment technology and the introduction of ever improving automated cleaning systems, this practice was, we felt, no longer necessary. With our design team skills, we proposed a solution that would eliminate the need for these plastic mop trays altogether and permanently.
After an extensive trial period, we were absolutely delighted to receive official approval and sign off for our innovative, environmentally friendly project. This milestone marked a significant step towards further reducing plastic waste in the retail sector and promoting sustainability within the retail industry. This solution is now being adopted by other organisations in the sector.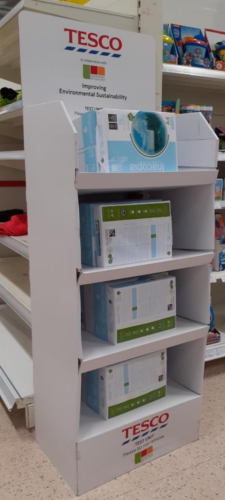 Fencor Packaging Group have a strong commitment to supporting customers in their efforts to reduce their reliance on plastics and expend great effort and resources to help.
It is our firm belief that sustainable solutions are the way forward and must be explored. That's why we offer a comprehensive range of cardboard temporary display stands that serve as an excellent alternative to permanent rigid materials such as plastic, metal and wood. Our stands not only provide a visually appealing and practical solution for showcasing your products but also contribute to reducing impact on, and the preservation of, our environment.
If you would like to understand more about temporary cardboard display stands, please reach out to us today. Our team of experts will be delighted to answer any questions you may have and assist you in finding the perfect solutions for your needs.
Together, we can make a significant impact in reducing plastic waste and create a greener future for generations to come. Contact Fencor Packaging Group today and let us help you make a positive difference for your business and for the environment.