Shareholding in CorrBoard UK
Ensuring A Sustainable Supply of Corrugated Board Materials
With its part ownership of CorrBoard UK, Fencor Packaging Group guarantees a supply base of sustainable corrugated board materials. Together with other business partners, Fencor Packaging Group holds a stake in the CorrBoard UK manufacturing operation. Established in 2013, CorrBoard UK opened its plant for production in Lincolnshire in 2014, marking the first sheet plant to be built in the UK in decades. Their vision was then, and still is today, to be a world-leading, carbon-neutral, self-sustaining corrugated sheet board production plant.
Since 2014, CorrBoard UK has been producing corrugated sheet board with an impressive annual capacity of 200 million square metres. Two years later, plans were revealed to make CorrBoard UK completely self-sufficient in terms of its power consumption with the construction and installation of a modular Anaerobic Digester Plant. Anaerobic digestion is the process by which organic materials such as food waste, vegetation, and animal waste are broken down organically to produce bio-fertilizer and biogas. This process takes place in oxygen-free environments within sealed tanks called anaerobic digesters. The resulting biogas is then cleverly converted into electricity.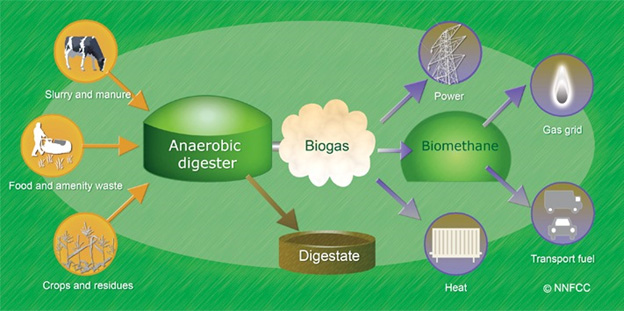 In October 2019, CorrBoard Bioenergy Ltd, the sister company to CorrBoard UK, successfully completed the £5.5 million Anaerobic Digester (AD) project. Since then, the Anaerobic Digestor plant has been generating enough power to not only sustain the entire plant, but to even feed excess electricity into the National Grid for use elsewhere. Located in an area surrounded by various food processing businesses, CorrBoard UK receives approximately 25,000 tonnes of waste materials annually to feed the anaerobic digester plant. This system and process minimises transportation needs and prevents waste from ending up in landfills across the UK. Additionally, the process produces organic fertiliser, which is supplied to the agricultural industry.
This process is something Fencor Packaging Group are very happy to be part of as it not only allows us to provide our customers with genuinely sustainable materials but also enables us to make a significant and positive impact on global issues through our carbon nett zero initiative.
Have a look at the following video to take a tour around the CorrBoard Bioenergy plant.
To learn more about our sustainability journey and social responsibility, please explore our development areas below. For the latest news on our sustainability initiatives, be sure to check out our dedicated Instagram feed.