Three BOBST installs in two years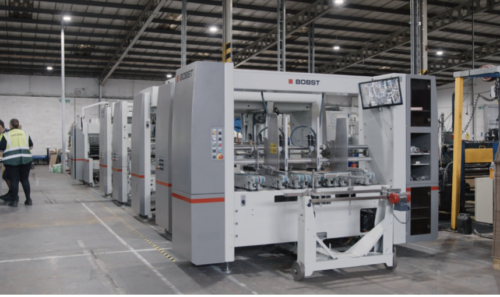 Published: November 14, 2023
Inside the remarkable growth of Manor Packaging
Experience is the best base for building up trust. This proved to be the case in the partnership between Manor Packaging – part of the Fencor Packaging Group and the world-leading Swiss packaging technology company BOBST.
In January 2020, the Peterborough, UK-based corrugated packaging specialist did not have a single BOBST solution on-site. Today, they have three, all of which were installed in the space of just two years. Its first BOBST machine – BOBST FFG 8.20 Discovery, a next-generation inline flexo folder-gluer – was installed in February 2020. BOBST's commitment to customer service and after-sales support during the Discovery acquisition meant Manor Packaging's decision about its next investment was a simple one; BOBST VISIONCUT 1.6 was quickly identified as the perfect solution for its rapidly evolving needs.
"We were putting most of our online retail jobs through our existing flatbed die-cutter but in spite of regular maintenance, we were very exposed to the risk of a breakdown and we needed additional capacity in order to meet the turnaround times demanded by our customers," said David Orr, Managing Director of Fencor Packaging Group. "We spoke to the BOBST team and they recommended the VISIONCUT 1.6. Such was the customer experience when we installed the FFG 8.20 Discovery, that we really didn't look anywhere else."
VISIONCUT 1.6 offers first-class precision die-cutting and includes Performance Management and Equipment Monitoring analysis tools available through the BOBST Connect platform. These tools allow uptime and productivity to be monitored in real-time, in order to optimise the efficiency on the production line and reduce waste. This flatbed die-cutter also offers superior versatility, as it can work with a wide range of substrates – from solid corrugated board up to 9 mm to triple-wall corrugated cardboard.
The investment quickly paid off for Manor Packaging, with customer demand steadily increasing, particularly in the e-commerce sector. The pattern of its previous investment repeated, the need for a further machinery solution quickly became evident. "Of course, improving one area of the production often leads to challenges arising elsewhere or highlights where further improvements can be made; that's exactly what happened for us," admitted Orr. "We quickly realised that we needed to back up our existing multi-point folder-gluer, which would also help us to offer greater variety and capabilities to our customers.
Once again, BOBST was able to offer a perfect solution in the EXPERTFOLD 165, installed in August 2021.
EXPERTFOLD 165 A2 delivered precisely what Manor Packaging needed, offering the ideal combination of speed and precision for packaging applications. Its impressive list of benefits includes high-speed and high-quality converting, thanks to a range of specific devices which ensure complete control of the folding and gluing process. Simple setting and retrieval of job data greatly reduce make-ready times and it is modular design enables Manor Packaging to add optional functionality later, should the need arise.
"The fact that BOBST has UK-based engineers was a crucial factor in our decision-making process," Orr explained. "We are very happy to pay a small premium for the reassurance of having engineers close at hand, who know the machines inside out, especially when we are in the business of providing products to customers on very short lead times."
These continue to be exciting times for Manor Packaging. Having significantly invested in its business over the last few years, it is already beginning to reap the rewards in the form of improved capacity, flexibility, and resilience.
"Our operators are immensely proud that they get to work on our industry's top-of-the-line machinery," added Orr. "But ultimately, it's down to the build quality, reliability, and service. You don't just get a machine with BOBST. It's the total package.
"We really are happy with our partnership, and that's been the case from the word 'go'. Now, our first instinct when we're looking for a new machine is to go to BOBST," he said. As this rapidly blossoming partnership continues to bear fruit, it is clear that this whirlwind journey is far from over. 
To visit the full article on the Packaging Portal Click Here